By gathering your own information and talking to locals, you can be more informed, confident, and comfortable in the next location you choose to call home
The age-old real estate adage of "location, location, location" is absolutely spot-on when it comes to property pricing, but the factors that make for an ideal home go beyond the surface than just your property's location.
Take a look at what some of these homeowners wished they knew before they purchased their home.
Forgetting to check if there is a mobile service in the neighbourhood
As property developments extend further out from densely populated areas, the mobile service may get weaker.  Even if you have broadband Internet at home, your 4G coverage may be affected the moment you step outside. According to OpenSignal (an app that measures mobile signal strength), areas with weaker mobile coverage in Klang Valley include Setia Eco Park (Shah Alam), Bandar Tasik Puteri (Rawang), and Bandar Puteri Puchong (refer to the image below).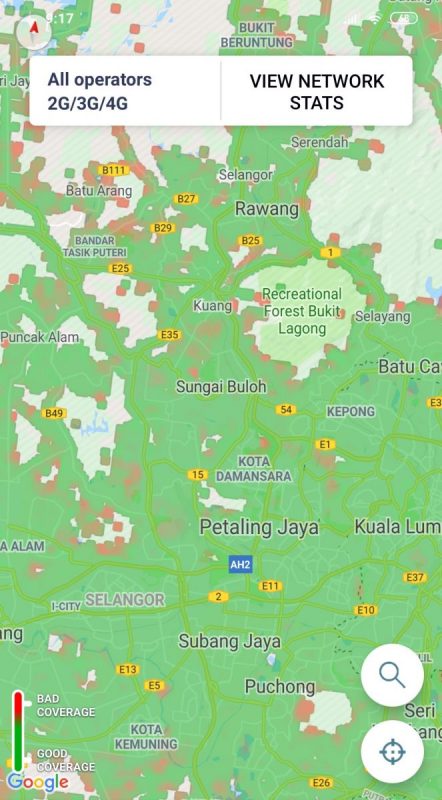 Above: Mobile service coverage map around Klang Valley. The red spots indicate weaker signal strength on average across popular service providers (Digi, Celcom, Maxis, U Mobile, and Unifi). Source: OpenSignal
Immediately going for the first home loan plan that the property agent or developer recommends
When a new property is up for sale, developers will usually partner with a bank to offer up home loans. It's easy to trust that these are determined as the best rates. Give careful consideration before making the decision to sign up for the maximum loan duration (e.g. 35 years).  While it serves to lower your monthly repayments, you may realise that changing the duration may not impact your cash flow that greatly.
Asking the seller to repair something
If you are purchasing a sub-sale home, you should already find existing fittings and furniture such as lights, fans, kitchen cabinets, water heaters, and air-conditioning already pre-installed. Depending on their wear and tear, other areas for concern may include loose tiles, rotting door frames, dark grout, and stained walls – you may be inclined to replace these. However, if a full-fledged renovation is on your mind, you don't have to pay too much attention to the repair of these items.
However, should you plan to keep the bulkier items such as air-conditioning or kitchen cabinets, we suggest to forgo requesting that the seller repair them before officially handing over the keys to the house. The reason behind this is because most sellers will take advantage of the situation to make repairs in the cheapest way possible by cutting corners to satisfy your requirements. As a result, you may end up spending money to replace these items anyway.
As an alternative, try and use these defects to negotiate the selling price of the property. Then, conduct proper repairs later on.
Above: When buying a sub-sale property, don't expect the seller to make repairs before handing over the keys.
Accepting freebies from the seller
Freebies from the seller might be part of a perfectly genuine and good-hearted gesture. However, in some cases, it could be just an excuse to save money on junk removal. For example, a seller tells the buyer that the existing fridge in the kitchen is still in good condition. However, after moving in, the buyers may later discover that the fridge is leaking and concealing termite damage in the cabinets behind it. The buyer would then be forced to pay a significant sum of money to have the kitchen cabinets ripped out – on top of hiring someone to remove the fridge.
A general rule of thumb to follow when purchasing a sub-sale home is that the seller should be responsible for removing everything before handing the property over.
Not spending time in the neighbourhood first
This especially applies to sub-sale homes. Getting to know the neighbourhood of your potential property will ensure several things get ticked off the list. For example, you will get to know the demographics of the area, the environment at night, the proximity to grocery stores and your office, rush hour conditions, what it's like during the weekends, and the ratio between homeowners and renters. You could also visit when it rains to assess whether the area is prone to flooding. If it is a gated community, you may get a sense of how well-organised the management committee and community is as a whole by paying close attention to the condition of common facilities such as playgrounds and nearby schools (should there be one).
Above: Badly-maintained amenities can be a sign of a poorly run management committee or an underfunded municipal council
Not checking the master plan of the neighbourhood
The home may be located next to an empty field or a forested hill. While this may be desirable, you need to check if there are any plans to develop that area in the near future. You may be unknowingly buying a home that will soon be dwarfed by a 50-storey condominium.
While developments will bring more amenities to the area, it may severely strain the infrastructure. If the neighbourhood is already experiencing regular traffic jams, a new condo will cause further chaos.
Not checking for noises and smells
Nobody wants to encounter unwarranted noises or smells that will potentially cause them to lose sleep at night. If you or your loved ones are light sleepers, you might want to steer clear of living near an airport, although property prices below regular flight paths might be a lot lower compared to those in the city.
You may also experience noise if your home is situated near a highway, school, sports stadium, or performance venue. Living near a 24-hour restaurant might be convenient, but it could also be a deal-breaker for some. As for unpleasant smells, such as smoke and chemicals, check if you are downwind from a sewer treatment plant or recycling factory.
Above: Living near an airport can mean sleepless nights for residents
Besides conducting a thorough check for defects in your potential home, you are also advised to take note of maintenance and miscellaneous costs to avoid disputes with the management or property developer later on.
---
This article was contributed by Recommend.my - Malaysia's #1 home improvement services platform. They make it safer and more convenient to hire the best service professionals for all your home improvement needs; from aircon servicing to interior design and renovations.
---
This article is intended to convey general information only. It does not constitute advice for your specific needs. This article cannot disclose all of the risks and other factors necessary to evaluate a particular situation.
Any interested party should study each situation carefully. You should seek and obtain independent professional advice for your specific needs and situation.