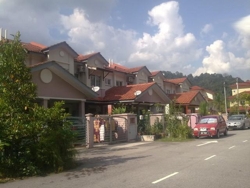 Templer Suasana
is an integrated lake-side residential and commercial development sited in Templer Park. The residential is situated at the south side of Templer Park, at the first left after the entrance. It is the Phase 3 of the Templer Park township development. Templer Suasana's residential component comprises 2-storey terrace house, semi-detached house and townhouse. The townhouse development was launched in October 2000, priced from RM99,000 to RM150,000. The townhouse comprises a total of 324 units. The house has built-up size of 1,650 sf with 3 bedrooms and 2 bathrooms. The 2-storey terrace house is built on 20' x 70' lot size. It consists of 3+1 bedrooms and 3 bathrooms. There are a total of 62 units of 2-storey terrace. These terraces were priced from RM180,000 to RM285,000. Meanwhile, the semi-detached house has land size of 4,888 sf and built-up size of 2,900 sf. The house has 4+2 bedrooms and 3 bathrooms. It was priced from RM370,000 when launched in 2004.In order to support the residents in the entire Templer Park, there is a row of shop-office lot sited at the entrance of Templer Suasana. The shop-office hosts groceries, launderette and convenience stores. Templer Suasana is the only enclave within the township with its own commercial centre. Within the township itself, there is Perangsang Templer Golf Resort that hosts an 18-hole golf course and a clubhouse that houses a swimming pool and other sports facilities. Outside from the township, there sis a vast array of amenities can be located. The nearest schools are SK Rawang, SJK San Yul, SK Bandar Tasik Pueri, SMK Seri Gading, SMK Bandar Tasik Puteri and Sekolah Berasrama Penuh Integrasi Rawang. In addition, Templer Suasana is about 10 minutes away to Rawang town, which hosts Tesco and Carrefour. It can be accessible via Rawang Highway. Temper Suasana is accessible through Exit 116 from the North-South PLUS Highway and Guthrie Corridor Expressway (GCE) Exit 115 that lead to Rawang Highway.
Property Details
Name: Templer Suasana
Address: Templer Park, Rawang, Selangor
Developer: Kumpulan Hartanah Selangor Berhad (KHSB)
Completion Date: 2007
Type: Semi-Detached, Terrace, Townhouse & Shop-Lot
Tenure: Leasehold
No. of Storey
Terrace: 2
Semi-Detached: 2
No. of Units
Townhouse: 324
Terrace: 62
No. of Bedrooms
Townhouse: 3
Terrace: 3 + 1
Semi-Detached: 4 + 2
No. of Bathrooms
Townhouse: 2
Terrace: 3
Semi-Detached: 3
Built-up
Townhouse: 1,650 sf
Terrace: 20' x 70'
Semi-Detached: 2,900 sf
Launch Price
Townhouse: RM99,000 - RM150,000
Terrace: RM180,000 - RM285,000
Semi-Detached: RM370,000
Subsale Price
Townhouse: From RM185,000
Terrace: From RM270,000
Semi-Detached: From RM600,000
Rental
Townhouse: RM550
Facilities
Clubhouse
Lake
24-hour security
Market Trends
Latest transaction in Templer Suasana, Templer Park
| SPA Date | Address | Size | Price |
| --- | --- | --- | --- |
| 18/03/2015 | NO.X, JALAN TEMPLER SUASANA X | 1399 ft2 | 380000 |
| 11/11/2014 | X-B, JALAN TEMPLER SUASANA XC | 3016 ft2 | 340000 |
| 08/10/2014 | X, JALAN TEMPLER SUASANA X | 1593 ft2 | 420000 |
| 02/10/2014 | NO.XB(LOT XB), JALAN TEMPLER SUASANA XA | 1561 ft2 | 290000 |
| 09/07/2014 | X-B, JALAN TEMPLER SUASANA XD | 1560 ft2 | 250000 |
Analysis
Templer Suasana is indeed the cheapest house option within Templer Park. Other neighborhoods within Templer Park offers bungalow lot (Templer Villas, Templer Baiduri and Templer Heights), semi-detached house (Templer Bistari) and terrace house (Templer Heritage). Compared to the others, Templer Suasana is the best located enclave that boasts the lake view as well as the green eye-soothing view of Bukit Takun. The enclave is situated on flat land compared to some neighborhoods that are located on slope.