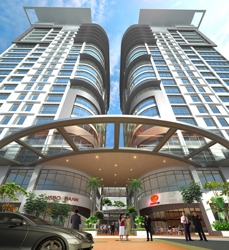 V Square (also known as VSQ) is a commercial development built on a 2.6-acre of leasehold land within the heart of Petaling Jaya along Jalan Utara (Section 14) with lots of conveniences for its tenants or potential buyers. V Square comes with 4 major components featuring two blocks of corporate towers, a block of corporate business suites, and two blocks of corporate offices, with retail space on the ground floors. Apart from that, the state-of-the art technology within the building, modern façade design and efficient layout of its interior makes it even more suitable for working environment, business purposes as well as for SOHO (small office, home office) usage.V Square is strategically located and accessible via the Federal Highway which is a universal location to access other main highways and roads. The place is also situated next to RAPIDKL's Asia Jaya Putra LRT station, and Tun Hussein Onn Eye Hospital.In addition, V Square also provides its buyers or tenants with convenient access to public amenities and township facilities such as Armada Hotel, Menara Axis, Jaya Shopping Centre, Filem Negara Malaysia, and a variety of eateries like Section 13 and 14 (Jaya 1, Jaya 33, Three Two Square and Digital Mall); Universiti Malaya (UM), Pusat Perubatan Universiti Malaya (PPUM), and also the Pantai Specialist Hospital.
Property Details
Name: V Square (also known as VSQ)
Address: Jalan Utara, 50000 Petaling Jaya, Selangor
Developer: Malton
Type: Commercial Offices (with Condominium facilities)
Tenure: Leasehold
No. of Blocks: 5
No. of Storey
Corporate Tower: 19
Corporate Office: 7, 14, and 17
No. of Units
Corporate Business Suite: 82
Built-up
Corporate Tower: 8,266 sf per floor
Individual Corporate Business Suite: 921 sf - 1,911 sf
Corporate Office: 3,390 sf - 3,645 sf
Retail: 38,395 sf
Launch Price
Corporate Tower: From RM435,900 onwards
Corporate Office: From RM11.5 million onwards
Facilities
24-hour security with access card system
CCTV and security check at main access to individual building
Corporate business suites with pantry & bathroom
Three-phased wiring for all types of office units
Lifts
Swimming pool and gymnasium
Restaurants and F & B outlets
WIFI & broadband (selected spots)
Spa
Analysis
V Square is developed by Malton, an established developer in the Klang Valley with the ambition of turning the landmark into an icon of Petaling Jaya. The commercial development offers modern and innovative structure design in line with today's leading commercial, retail outlets and corporate offices.The strategic location of V Square is within a prime area in Petaling Jaya, such as along the busy road of Jalan Utara, Section 14 which is just within distance to the Federal Highway (within 100 metres) makes it a perfect place to do business or invest your money in property investment.
我们正在努力中。敬请期待我们将为您献上最全面的物业评论!