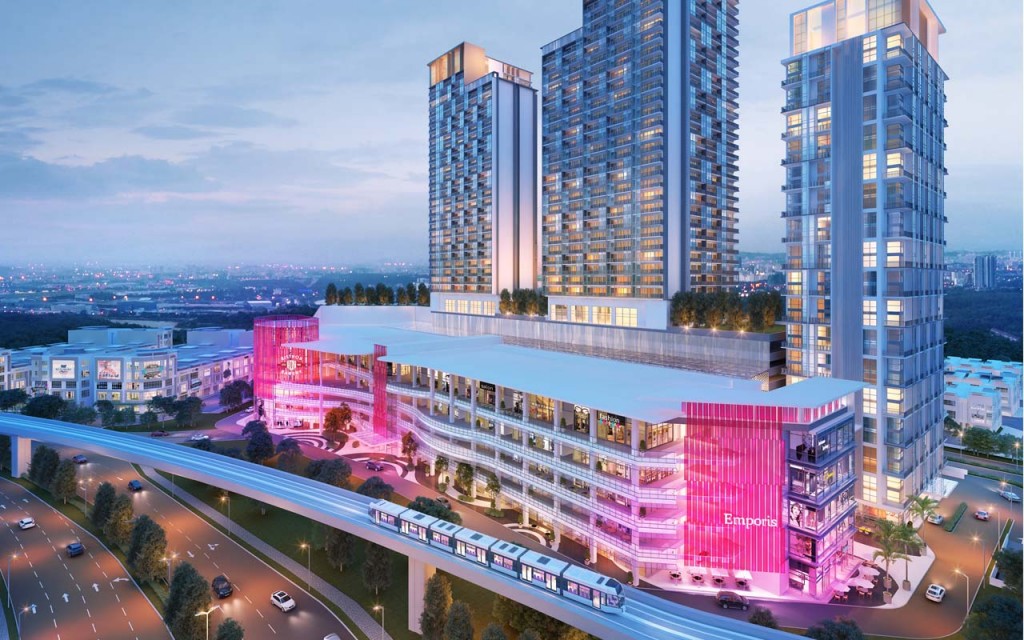 Emporis
is a leasehold mixed development that sits in Kota Damansara. It is a lifestyle development of retail lots, serviced apartments and duplex suites incorporating work, live and play. Emporis will span 6.9 acres of leasehold land, in this bustling township. 
Emporis is a project undertaken by SC Land. There is a total of 62 retail lots, one block of 204 units of duplex suites and two blocks of 28-storey serviced apartments which will house 616 homes. 
Buyers looking for a home in Emporis will have a choice of four different layouts at the Duplex Suites, ranging between 662 sq ft and 1,012 sq ft with all of the housing only one bedroom with either two or three bathrooms. The serviced residences which are more family oriented are sized between 750 sq ft and 1,047 sq ft with a choice of either two or three bedrooms. 
The serviced apartments of Emporis will come with a rich choice of facilities. There are a garden pavilion and Jacuzzi lounge, and a 50-metre swimming pool. There will also be a barbecue terrace party deck for large outdoor gatherings and even a pool party deck. For fitness freaks, there are tennis courts, a basketball court and exercise lawn. 
Emporis is surrounded by a ready catchment of patrons in a high-income neighbourhood. Aside from the residents of Kota Damansara, Tropicana and Bandar Utama are located nearby. Residents of Emporis will enjoy the convenience of public transportation with the Kota Damansara MRT station situated just metres down the road. 
There are also three highways located within short distance of Emporis, the New Klang Valley Expressway (NKVE), Damansara-Puchong Highway (LDP) and the partially approved Damansara-Shah Alam Highway (DASH). With these highways, residents of Emporis will be conveniently connected to the various suburbs of the Klang Valley.
Duplex unit type A floorplan:
Duplex unit type B floorplan:
Duplex unit type C floorplan:
Duplex unit type C1 floorplan:
Serviced residence type A floorplan:
Serviced residence type B floorplan:
Serviced residence type B1 floorplan:
Serviced residence type C floorplan:
Serviced residence type D floorplan:
Property Details
Name: Emporis
Address: Jalan Teknologi, 47810 Petaling Jaya, Selangor
Developer: The Scland Group
Completion Date: 2020 Dec 
Type: Residental 
Tenure: Leasehold
No. of Blocks: 3
No. of Storey: 28
No. of Units: 884
No. of Bedrooms 
Duplex Suites
Type A: 1
Type B: 1
Type C: 1
Type C1: 1
Serviced Residences
Type A: 2
Type B: 2+1
Type B1: 2+1
Type C: 2+1
Type D: 3
No. of Bathrooms 
Duplex Suites
Type A: 2
Type B: 3
Type C: 2
Type C1: 2
Serviced Residences
Type A: 2
Type B: 2
Type B1: 2
Type C: 2
Type D: 2
Built-up 
Duplex Suites
Type A: 662 sq ft
Type B: 1,012 sq ft
Type C: 662 sq ft
Type C1: 795 sq ft
Serviced Residences
Type A: 750 sq ft
Type B: 880 sq ft
Type B1: 880 sq ft
Type C: 880 sq ft
Type D: 1,047 sq ft
Launch Price: RM 592,000 - RM 1,085,700
Phone: 03-6148 9811 
Email: sales@scland.com.my
Website: http://www.emporis.com.my/
Facilities
Garden terrace
Tennis court 
Basketball court 
Exercise lawn 
Garden swing 
Grand lawn 
Seating nests 
Playground 
Barbecue terrace party deck 
Garden Pavilion 
Games' room 
Reading room 
Multi-purpose hall 
Green wall 
50m swimming pool 
Jacuzzi lounge 
Bridge 
Kids' pool 
Garden deck 
Pool party deck 
Gymnasium 
Sauna 
Yoga / Tai Chi deck 
Herb garden 
Stone bench 
Pristine lawn