star_property_view_thumb clearfix">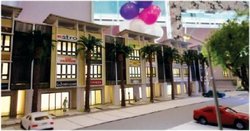 Plaza Crystalville
is a freehold commercial development located in Cyberjaya, Selangor. This particular Plaza Crystalville is also known as PCV, short for Plaza Crystalville @ Vita, being one of a few by the same developer whom has opted to use the same name. The developers are Crystalville Group, and the development is expected to be completed in the December of 2015. The other two Plaza Crystalvilles are located in "Setapak":http://www.propwall.my/setapak/plaza_crystalville and "Klang respectively.Within Plaza Crystalville, there are six blocks of shop offices ranging from one to three storeys. There is one block of single-storey shops, two blocks of triple-storey shops, and three blocks of double-storey shops. Built-ups range from 1,540 to 4,620 sf. There is a space between the six blocks that is allocated for a green area, where plants and benches will be erected.Plaza Crystalville has many distinct characteristics. It comes with a practical layout that does not compromise on aesthetics that is ideal for a business and corporate environment. Units come with dedicated parking bays, and considered to be ample taking into account visitors as well. The ground floor for the various units come with a 12' ceiling height which gives an impression of spaciousness.From Plaza Crystalville, there are multiple banks in the vicinity which are within convenient driving distance, approximately one kilometer away. This is important for commercial developments as they would require the use of banking facilities on a daily basis. Restaurants could be found just opposite the development on Biz Avenue, which is a commercial area.Plaza Crystalville is strategically located in terms of access. There are six major highways that are easily accessible, including Maju Expressway (MEX), South Klang Valley Expressway (SKVE), ELITE Highway, Lebuhraya Damansara - Puchong (LDP), and the Putrajaya - Cyberjaya Expressway (B15). Travelling to KL City takes 30 minutes.
Property Details
Name: Plaza Crystalville
Address: Lingkaran Cyber Point Timur, Cyber 12, 63000 Cyberjaya, Selangor
Developer: Crystalville Group
Completion Date: December 2015 (estimated)
Type: Shop Lot
Tenure: Freehold
No. of Blocks: 6
No. of Storey: 1, 2 & 3
No. of Units: 58
Land Area: 6.2 acres
Dimension: 22 x 70 ft
Built-up: 1,540 - 4,620 sf
Launch Price: From RM1,724,000
Layouts
1-Storey (1,540 sf)
2-Storey (3,080 sf)
3-Storey (4,620 sf)
Facilities
Green area
Analysis
The developer, Crystalville Group has numerous developments under its belt, including Subang Alam Metropical Homes, and other Plaza Crystalville with the same name at different locations including Setapak and Klang. Completed projects have a total Gross Development Value (GDV) of approximately RM400 million. Crystalville Vita is located in a high catchment area with many mid-high end residential in the vicinity.Current rental rate in the area ranges from RM4,000 to RM5,500 for 3-storey shop-offices. There are to be multiple phases to the development, and there are proposals for phase 2 and 3, which are to include a petrol station, SoHo units, along with retail units and hotel suites. The developers are also forecasting an increase in population in Cyberjaya, which is already housing many multinational corporations (MNCs), to be the driving force for the demand.