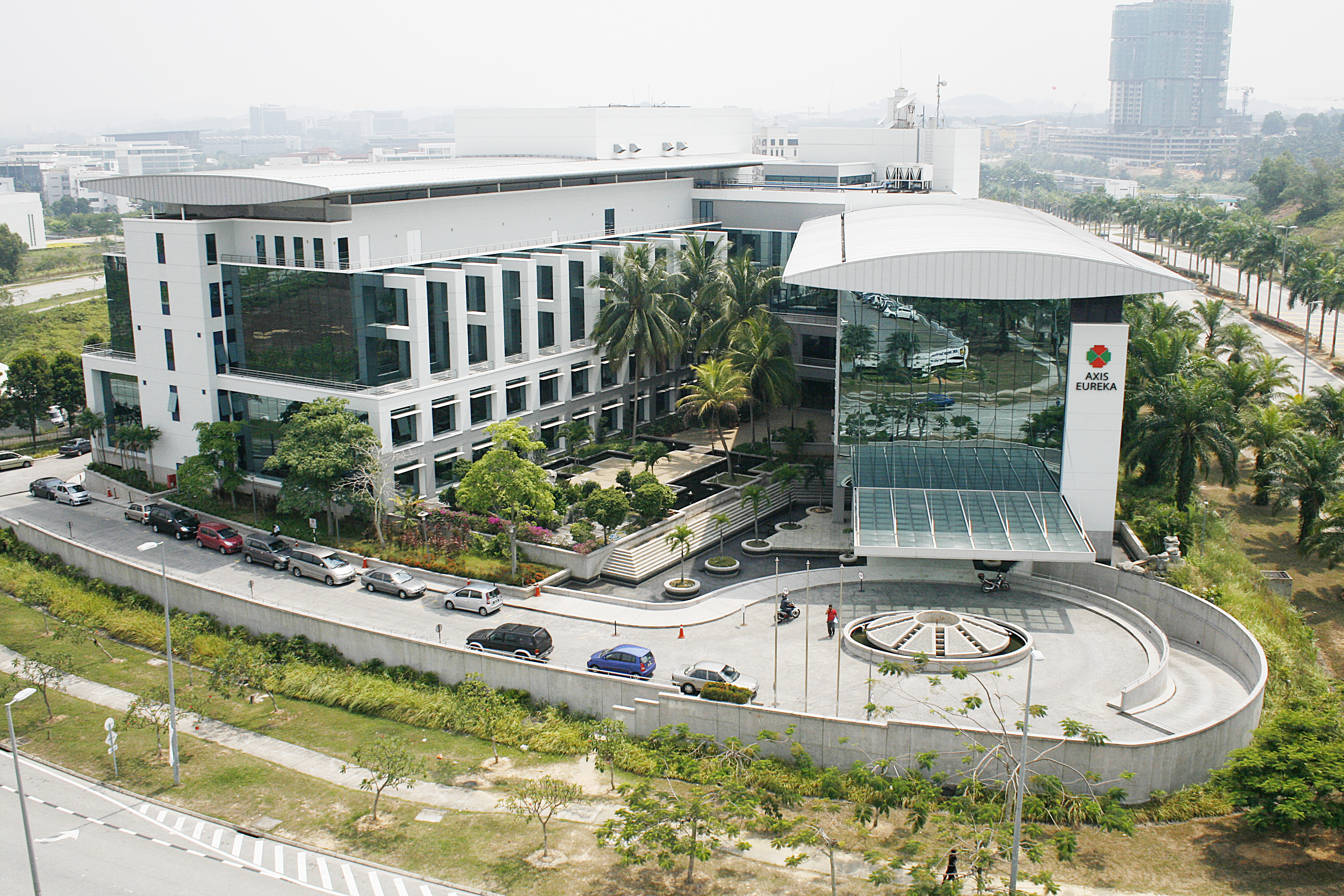 Axis Eureka
is a commercial freehold development located in the prime area of Cyberjaya and part of the Multimedia Super Corridor. The enterprise zone, wherein the building is sited, is reserved exclusively for companies involved in MSC activities and other clean high-tech industries. According to the developer, Axis Eureka has an appraised value of RM54,000,000 with gross revenue numbered at RM3,864,000.A four-storeyed modern purpose-built office building, Axis Eureka sits on a land area of 89,761 sq ft with an average occupancy rate of 59.08%. The major tenants are Multimedia Corporation Bhd and Scicom (MSC) Bhd. Features include a lower roof floor together with a lower ground floor and a basement car park of 220 bays. It also has a net lettable area of about 10,812.81 sq metres (117,618 sq ft) and a gross floor area of 20,314.42 sq metres (218,662 sq ft).Nearby occupants include Innovation Centre, Quill Building 2, Multimedia University (MMU), RBC Dexia, HP, the Dell Building, the Street Mall shopping arcade, DMelor Apartments, Century Square and Ericsson Building. Situated about 35 kilometres from the Kuala Lumpur City Centre, Axis Eureka is easily accessible by way of the KL-Putrajaya Highway and rail.
Property Details
Name: Axis Eureka
Address: Jalan Teknokrat 7, Cyber 5, 63000 Cyberjaya, Selangor
Developer: Axis-REIT
Completion Date: Completed
Type: Office
Tenure: freehold
No. of Blocks: Not applicable
No. of Storey: 4
No. of Units: Not stated
No. of Bedrooms: Not stated
No. of Bathrooms: Not stated
Built-up:117,618 sq ft
Launch Price: RM51,250,000
Phone: +603 7958 4882
Email: info@axis-reit.com.my
Website: http://www.axis-reit.com.my/property_details.php?id=4
Market Trends
Analysis
Axis-REIT is a real estate investment trust constituted by a deed and principally regulated by applicable securities laws, the SC Guidelines on REITs, the SC Guidelines on Islamic REITs, the Listing Requirements of Bursa Malaysia, the rules of the depository and relevant taxation laws and rulings.