Property Insights & Reviews : Taman Bukit Baru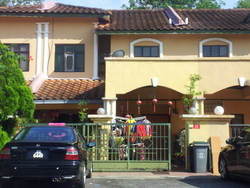 Taman Bukit Baru is a leasehold housing development located in the district of Bukit Beruang in Melaka. The district name which literally translates to "Bear Hills" is very fortunately not home to these wild animals, and is located only 15 minutes away from the city centre. At 10 minutes away from the Malacca International Airport, it is also not a rural area.Bearing large and spacious homes, Taman Bukit Baru features double storey terrace houses of built-ups between 1,540 sf and 8,000 sf and is suitable to multi-generational families with between 3 and 5 bedrooms. These houses are priced rather reasonably for what they offer at between RM289,000 and RM1,300,000.Benefits of living in Taman Bukit Baru involves being able to obtain partially furnished homes, as the majority of these homes are tenanted and the units being sold are second hand. Buyers can usually expect to get partially furnished homes with built-in kitchen cabinets and wardrobes along with ceiling fans and air-conditioners.The major plus point of living in Taman Bukit Baru is the fact that it is located just behind Jusco Melaka. Besides having a supermarket behind their homes, residents are also within short walking distance to many restaurants, boutiques, cafés and shops, along with a cinema as well. Visitors will also have the luxury of utilising the shopping mall's parking lot during parties.Besides being located just behind a shopping mall, residents of Taman Bukit Baru are also surrounded by various other amenities. The Pantai Hospital of Ayer Keroh is within a 3-minute drive only, while various local banks line the street of the commercial area within walking distance. Aside from that, there are also plenty of primary and secondary schools within the area.Taman Bukit Baru is well connected via a myriad of inner roads through the housing developments as well as main roads. Some of the convenient routes surrounding the development include the main road Jalan Bukit Beruang as well as the Ayer Keroh Highway. Residents will find public transportation to be as convenient with the Melaka Sentral Bus Terminal only 10 minutes away.
Property Details
Name: Taman Bukit Baru
Address: Off Jalan Graha Makmur, 75450 Bukit Beruang, Melaka
Type: Terrace
Tenure: Leasehold
No. of Storey: 2
No. of Bedrooms: From 3
No. of Bathrooms: From 2
Built-up: From 1,540 sf
Subsale Price: From RM289,000
Facilities
Shopping mall
Analysis
Residents of Taman Bukit Baru generally enjoy smooth flowing traffic throughout the day due to their excellent connectivity via the myriad of roads available. They do however experience terrible traffic congestions during peak hours, due to the high number of vehicles which uses these very roads as well.The neighbourhood of Taman Bukit Baru is an old but well-kept one. Its tenants consists mainly of old families who are usually reluctant to move out as they like their home's location. Crime rate in the area is low if not non-existent, as there have been no reported thefts or break-ins as of yet.Many people deem Taman Bukit Baru to be an excellent investment; again due to its excellent location. Locals find it a wonderful place to call home, although its boon is also its bane especially during holiday seasons where throngs of locals visit the shopping mall just behind the residential area. It is however still a wonderful place to call home, in a very much sought after area.