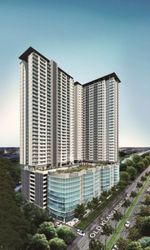 Southbank Residence
is a contemporary crafted serviced apartment situated in Old Klang Road, Kuala Lumpur. It is currently being developed by UOA Group and is slated for completion in 2017.Southbank Residence will comprise of two blocks of serviced apartments with a total of 674 freehold units. Both of the 37-storey blocks will hold units that have been incredibly designed with seven different types of layouts with built-up areas ranging between 779 and 978 sf. Type A, Type A1, Type A2, Type A3 and Type C will have 3 bedrooms and 2 bathrooms, whereas Type B and Type B1 will have 2 bedrooms and 2 bathrooms.The L-shaped orientated blocks of Southbank Residence have been uniquely designed to feature modernized looking facades. The first 10 floors of Southbank Residence will locates several offices with car park areas, whereas the facilities will be on the 11th floor. The units at Block A of Southbank Residence will be facing either north or south directions and the units at Block B will be facing either east or west directions.Myriad facilities will be available at Southbank Residence such as seating area, outdoor fitness, gazebo, reflexology path, wading pool, shower area, main lap pool, pool deck, jacuzzi, children playground, meeting room, gymnasium, multipurpose hall, cafe, kindergarten, toilets, changing rooms, trellis, preparation area, BBQ pit and numerous parking spaces. There will also be a 24 hour security service provided to secure the premises of Southbank Residence.Amenities wise, Southbank Residence is strategically situated within close proximity to many shopping, dining, leisure as well as educational amenities. These amenities include Megatech Institute, Alamanda College, restaurants, shop lots, clinics, banks, Mid Valley Megamall, The Gardens and Pantai Medical Centre. Several schools nearby are Seri Setia Primary School, Choong Wen Chinese School, Sri Sentosa High School and Taman Desa High School.Southbank Residence is easily accessible via Old Klang Road which is connected to several major highways like Jalan Kuchai Lama, East - West Link Expressway and New Pantai Expressway (NPE). The nearest KTM station is KTM Pantai Dalam, which is about 1 km away, but there are many buses and taxis services in the area.
Property Details
Name: Southbank Residence
Address: Old Klang Road, 58100 Kuala Lumpur
Developer: UOA Group
Completion Date: 2017 (estimate)
Type: Serviced Apartment
Tenure: Freehold
No. of Blocks: 2
No. of Storey: 37
No. of Units: 674
No. of Bedrooms: 2 - 3
No. of Bathrooms: 2
Built-up: 779 - 978 sf
Maintenance Fee: RM0.22 psf
Launch Price: From RM650 psf
Layouts
Type A
3 bedrooms + 2 bathrooms (953 sf)
Type A1
3 bedrooms + 2 bathrooms (978 sf)
Type A2
3 bedrooms + 2 bathrooms (978 sf)
Type A3
3 bedrooms + 2 bathrooms (953 sf)
Type B
2 bedrooms + 2 bathrooms (779 sf)
Type B1
2 bedrooms + 2 bathrooms (785 sf)
Type C
3 bedrooms + 2 bathrooms (967 sf)
Facilities
Seating area
Outdoor fitness
Gazebo
Reflexology path
Wading pool
Shower area
Main lap pool
Pool deck
Jacuzzi
Children playground
Meeting room
Gymnasium
Multipurpose hall
Cafe
Kindergarten
Toilets
Changing rooms
Trellis
Preparation area
BBQ pit
Parking
24 hour security
Analysis
UOA Group is an infamous property developer in Malaysia that aims to develop many high-quality properties by constantly adding value to their workmanship. Some of the residential developments in their track record are Villa Yarl, Villa Saujanis, Villa Pines, The Park Residences, Setapak Green and Desa Bangsar Ria.Southbank Residence is the perfect place of living for anyone who wanted to experience exciting inner city lifestyle with the convenience of urban living. It is close to the KL City Centre, KL Sentral and also Bangsar so for those who are working at that area will appreciate the short distance.The downside that many people are concern with is the utility charges, which is expected to be high because Southbank Residence is located on a commercial land. Also, the launching price for the units are rather expensive, considering the built-up areas are all less than 1,000 sf. Many interested buyers still doubt the worthiness of owning a unit at Southbank Residence.