Agile Mont Kiara
 is a large scale high-end residential development located in Dutamas on the borderlines of Mont Kiara. It is the maiden project of Agile Property Holdings, a developer from China. The project is a joint venture between the Agile Group and PJ Development Bhd from whom the land was acquired. Built over approximately 10 acres of prime freehold land, buyers have seven different layouts to choose from with a total of 813 units spread out over 11 blocks. 
The 11 towers vary in height, with Block A to Block E being the shortest at eight storeys tall. The Block F and Block G are mid-height towers with 18 storeys while the Block H to Block K stands at 44 storeys tall. The varying heights of the blocks ensure that there is a home to suit every buyer.
The units range from between 1,162 sq ft to 5,037 sq ft with a starting price of approximately RM1,179,667 and RM6,621,613.  There are only between 2+1 bedrooms and 4+2 bedrooms in every unit. The largest unit of 5,037 sq ft is located at the low rise component of eight storeys. Every unit also gets two complimentary parking lots. Concerning safety, this development is located in a 24-hour guarded security area.
Catering to the higher end income bracket of buyers, the range of facilities provided at Agile Mont Kiara is comprehensive. Among them are gymnasiums, namely the sky gym, aqua gym and gym for the elderly. Children are not exempted from the fun with the kid's pool with pool slides, a fun pool and plunge pool. These facilities are only some of the many that are provided at Agile Mont Kiara.
Regarding connectivity, this development is also situated near to several major highways which are; Damansara-Puchong Highway (LDP), North-South Highway, Sprint Highway and Duta-Ulu Kelang Expressway (DUKE).
Type A Floorplan: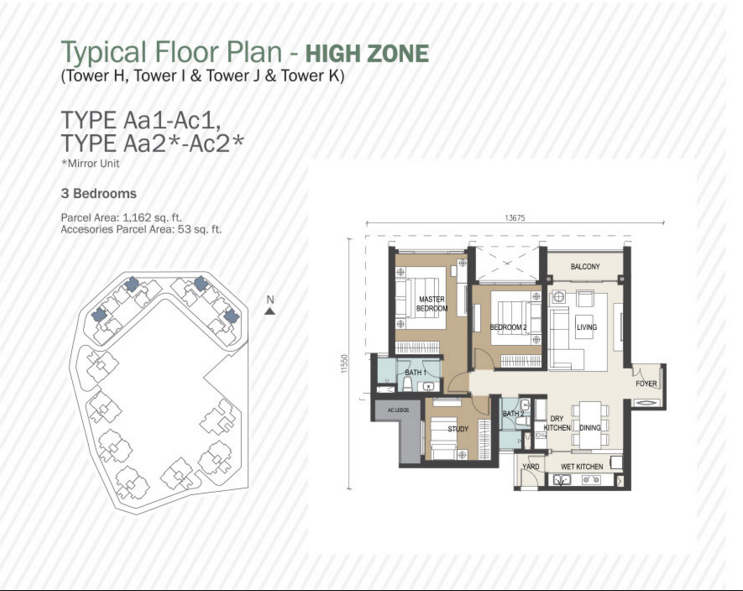 Type B Floorplan:
Type C Floorplan:
Type D Floorplan:
Type E Floorplan: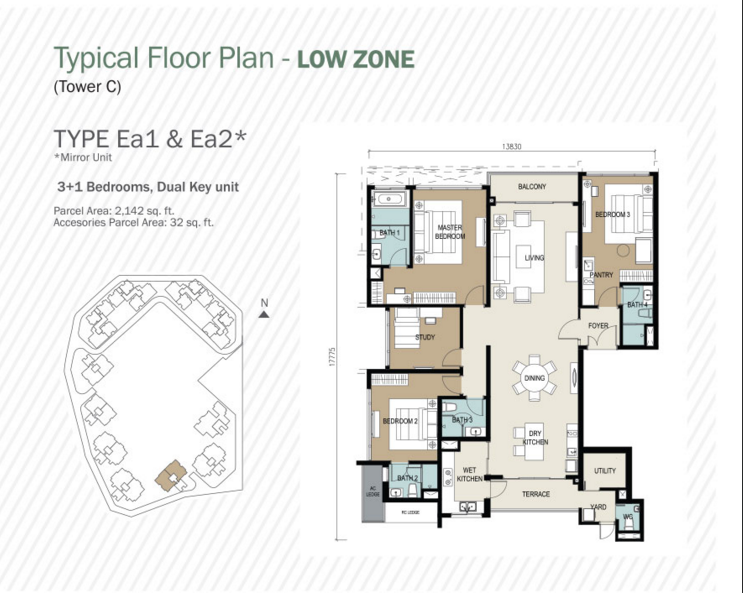 Type F Floorplan:
Type G Floorplan: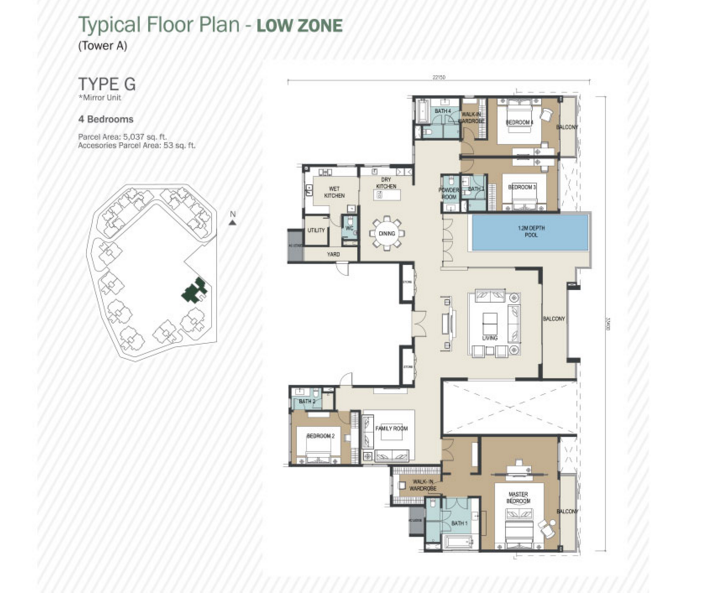 Property Details
Name: Agile Mont Kiara
Address: Dutamas, 50480 Kuala Lumpur, Federal Territory of Kuala Lumpur
Developer: PJD Group & Agile Real Estate Development (M) Sdn Bhd
Completion Date: September 2019
Type: Residential Development
Tenure: Freehold
No. of Blocks: 11 blocks
No. of Storey: 44 storeys
No. of Units: 813 units
No. of Bedrooms
Type A: 2+1
Type B: 3+1
Type C: 3+1
Type D: 3+2
Type E: 3+2
Type F: 4+1
Type G: 4+2
No. of Bathrooms
Type A: 2
Type B: 2+1
Type C: 3+1
Type D: 3+1
Type E: 4+1
Type F: 4+1
Type G: 4+2
Built-up
Type A: 1,162 sq ft
Type B: 1,345 sq ft
Type C: 1,560 sq ft
Type D: 2,012 sq ft
Type E: 2,131 sq ft
Type F: 2,723 sq ft
Type G: 5,037 sq ft
Launch Price: RM 1,179,667 - RM 6,621,613
Phone: (+6) 03
Email: Not stated
Website: http://www.akisama.com.my/projects/one-residences
Facilities 
Sky club
Sky gym
Aqua gym
Sky lounge
Putting green
Convenience store
Multipurpose hall
Shallow pool with sun lounges
Sky cabana
Pool terrace with sun lounges
Plunge pool Kids pool with pool slides 
Trellis Playground
Function rooms 
Sky suites
Badminton court 
Elderly gym 
Games room
Steam room 
Changing room
Fun pool
Sky viewing deck
Barbecue area
Snooker Table
Tennis
Reading room
Card games room
Sky surau 
Jacuzzi 
Fitness corner 
Nursery Clinic
Jogging track 
Swimming pool 
Clubhouse