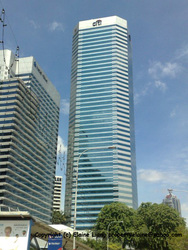 Menara Citibank is a freehold commercial office tower located along Jalan Ampang. It is wholly owned by Inverfin. It is situated right next to Nikko Hotel and apposite Plaza OSK. This 50-storey tower is designed by renowned architect Hijjas Kasturi Associates. It is built on a parcel of freehold land, measuring 12,694 sq m, and has a net lettable area of 68,156 sq m. Menara Citibank is strategically located in the commercial precinct of Kuala Lumpur. It is meters away from Petronas Twin Towers and nearby plenty of office towers, hotels and serviced residences. It is positioned in between Nikko Hotel and MCA Tower. It is also neighboring Binjai Residency, Corinthian, Menara Atlan and Ampang Park.There are plenty of amenities can be found within short distance from Menara Citibank. It is just within 5-minute walking distance to Ampang Park Putra LRT station. Besides that, it is just opposite Royal China (Tai Thong) Restaurant and nearby several other restaurants, namely Chef Choi Cantonese Restaurant, Pelita Nasi Kandar Restaurant and Lotus Restaurant. Ampang Park Shopping Mall is right across the road and one can also walk to Suria KLCC. Furthermore, it is meters away from Po Ling Chinese Temple and As-Syakirin Mosque.
Property Details
Name: Menara Citibank
Address: Jalan Ampang, Kuala Lumpur
Completion Date: 1994
Type: Commercial office
Tenure: Freehold
No. of Blocks: 1
No. of Towers: 50
Rental:
Facilities
Business centre
Cafeteria
Covered parking
Mini market
24-hour security
Analysis
Inverfin is a special purpose entity and investment company formed for the sole purpose of owning and operating the tower. It is equally owned by Hap Seng Realty (a subsidiary of Hap Seng Consolidated) and Menara Citi Holding Co. Hap Seng ownership in Inverfin was just completed recently in June 2009 as the company bought all interests in Inverfin owned by CapitaLand Ltd and Amsteel Corp for RM303.5 million.There is a Spa located on Level 7 and a food court located on Level 5. Besides being the headquarter of Citibank in the country, other prime tenants of Menara Citibank include oil and gas company Talisman, Japan Airlines and tourism board of Thailand.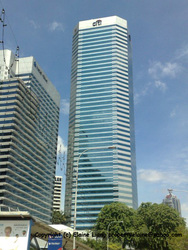 坐落Jalan Ampang的 Menara Citibank是一栋永久产权的商业大楼,由Inverfin独资拥有。其毗邻InterContinental酒店,对面是Plaza OSK。这座楼高50层的商厦是由著名的建筑公司Hijjas Kasturi Associates负责,土地面积达12,694平方米,总出租面积达68,156平方米。Menara Citibank位于吉隆坡商业区,距离国油双峰塔数十米之遥,周遭都是商业大厦、服务式公寓或酒店,例如马华公会总部大厦、Binjai Residency、Corinthian、Menara Atlan以及 Ampang Park。这一区公共设施繁多,5分钟步程可至Ampang Park轻快铁站。附近的餐厅包括蔡师父粤菜馆、大同皇朝酒家、Pelita Nasi Kandar以及Lotus Restaurant。Ampang Park Shopping Mall就在其对面街,甚至著名的Suria KLCC购物中心也可以步程范围内。不远处有华人寺庙和回教堂。
产业资讯一览
名称: Menara Citibank
地址: Jalan Ampang, Kuala Lumpur
竣工日期: 1994年
类型: 商业办公楼
产权:永久地契
建筑物: 1栋
层数: 50
租金: RM3,500 - RM9,750
设施
商务中心
咖啡厅
室内停车场
迷你市场
24小时保安
分析
独资拥有Menara Citibank 产权的Inverfin私人有限公司属于Hap Seng Realty设立的专属公司,用意就是旨在拥有和管理Menara Citibank。大厦第7层设有 Spa水疗,楼下第5层则有食肆,大楼也是花旗银行的大马总部所在,其他主要租户包括油气公司Talisman、日本全日空以及泰国旅游局。
Featured Ads