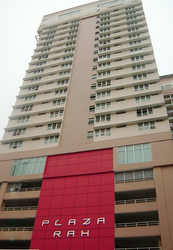 Plaza Rah is the tallest building in the area of Kampung Baru, Chow Kit. The condominium was developed by RAH Properties Corporation Sdn Bhd and is built on Malay Reserve Land.Plaza Rah consists of 300 units with a built-up of 1,178 sf per unit. Each unit also comes with 3 bedrooms and 2 bathrooms. There are many facilities such as a swimming pool, jogging track, playground, gymnasium, covered parking and mini market provided to tenants living in the condo. 24-hour security is also provided to maximize safety within Plaza Rah.Being in a strategic location, Plaza Rah provides easy access to Chow Kit, and is only 300 metres away from the Kuala Lumpur Hospital, 500 metres from Institute Jantung Negara and 5 km from KLCC as well as Bukit Bintang. Public transportations nearby Plaza Rah include Rapid KL (MR10) Monorail Chow Kit (0.57 km), Rapid KL (KJ11) Kampung Baru (0.7 km) and Rapid KL (MR9) Monorail Medan Tuanku (0.98km). Amenities that can be found near Plaza Rah are Restoran Ros, 7-Eleven Kampung Batu and Plaza Safuan, which are all accessible via Jalan Raja Abdullah. There are also schools such as University Utara Malaysia KL (0.35 km), SK Jalan Raja Muda (0.41km), Institute of Medical Research (0.49 km), SK Kampung Bharu (0.49 km) and SRJ Raja Muda (0.56km) in the area.In front of Plaza Rah is Jalan Raja Muda Abdul Aziz, a road that provides direct access to Jalan Pahang and Jalan Ipoh.
Property Details
Name: Plaza Rah
Address: Kampung Baru, 50300 Chow Kit, Kuala Lumpur
Developer: RAH Properties Corporation
Completion Date: Dec 2007
Type: Condominium
Tenure: Freehold
No. of Blocks: 1
No. of Storey: 23
No. of Units: 300
No. of Bedrooms: 3
No. of Bathrooms: 2
Built-up: 1178 sf
Subsale Price: From RM380,000
Rental: From RM500
Facilities
Lift
Business centre
Playground
Club house
Parking
Squash court
Jogging track
Gymnasium
Swimming pool
Wading pool
Tennis court
Mini market
24-hour security
Analysis
RAH Properties Corporation is the first developer that successfully developed Kampung Baru with the tallest building in the area. For those who are working nearby Kampung Baru, living in this condo is affordable compared to many other properties in Kampung Baru as the value of properties in the area are booming high. So renting a condo between RM500 and RM2600, or buying a condo at between RM380,000 and RM490,000 in Kampung Baru is somewhat affordable by many.Since Plaza Rah is located near Chow Kit, residents who are willing to walk to the Chow Kit area will be able to find some pretty cheap stuffs. This would really benefit any restaurant or cafe owners living in Plaza Rah.There are many places to eat in Kampung Baru, but searching for parking will be a nuisance as many roads are small with not many parking lots are available. Another downside is that the area is known for its congested traffic especially during weekends and at night.The great thing about living in Plaza Rah is that all public transportation near Plaza Rah are within walking distance so for residents who want to avoid traffic, they can always use the public transportation instead.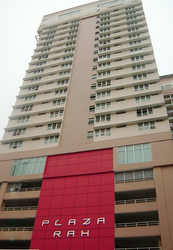 Plaza Rah 是Chow Kit 的Kampung Baru区最好的建筑物。此公寓由RAH Properties Corporation 有限公司发展,并建在土著保留地。Plaza Rah共有300个单位,每个单位的实用面积为1,178平方尺,每个单位配有3间卧室和2间浴室。公寓设备有游泳池、慢跑步道、游乐场、健身房、有棚停车场、迷你市场,还提供24小时保安监控服务,保障住户的安全。由于坐落在策略性的地点,Plaza Rah方便衔接至Chow Kit,且距离吉隆坡医院(KL Hospital)和国家心脏中心(IJN),分别只有300米和500米之遥,距离KLCC和Bukit Bintang也不过是5公里而已。Plaza Rah也靠近多个公共交通设施,包括Chow Kit单轨火车站(0.57公里)、Kampung Baru轻快铁站(0.7公里)和Medan Tuanku单轨火车站(0.98公里)。另外,此公寓的周边设施完善,经由Jalan Raja Abdullah即可找到Restoran Ros、7-11便利店和Plaza Safuan。附近的学校和教育机构包括吉隆坡北大(UUM)(0.35公里)、SK Jalan Raja Muda(0.41公里)、医学研究所(Institute of Medical Research )(0.49 公里)、SK Kampung Bharu (0.49 公里)和SRJ Raja Muda(0.56公里)。在Plaza Rah的正对面是Jalan Raja Muda Abdul Aziz,可经由此路直接通往Jalan Pahang和Jalan Ipoh。
产业资讯一览
名称:Plaza Rah
地址:Kampung Baru, 50300 Chow Kit, Kuala Lumpur
发展商:RAH Properties Corporation
竣工日期:2007年12月
类型:公寓
产权:租赁地契
建筑物:1栋
楼层数目:23
单位数目:300
卧室数目:3
浴室数目:2
实用面积:1178 sf
转售价:从RM380,000起
租金:从RM500起
设备
电梯
商业中心
游乐场
俱乐部
停车场
壁球场
慢跑步道
健身房
游泳池
浅水池
网球场
迷你市场
24小时保安监控
分析
RAH Properties Corporation是首个成功发展Kampung Baru的发展商,并在此区兴建最高的建筑物。对于在Kampung Baru附近工作的人士来讲,此公寓的房价最易负担,此区其他的房产项目价值已迅速飙涨。因此,对多数人而言,在Kampung Baru区以RM500至RM2600租用一个公寓单位,或以RM380,000至 RM490,000购买一个单位,可说是负担得起的价位。由于Plaza Rah靠近Chow Kit,愿意步行至Chow Kit区的住户,可找到许多相对便宜的东西,对于居住在Plaza Rah的餐厅和咖啡厅东主而言,这绝对是桩好事。在Kampung Baru,周遭围绕许多餐馆和食档,住户不愁美食,可是要找停车位则有难度,因为此区多数的道路都非常窄小,而且缺乏停车位。另一个缺点是,此区是"有名"的塞车区,尤其是在晚上和周末。居住在Plaza Rah的好处,则是在步行的范围内,即可抵达多个公共交通设施。想要避开困在车龙的住户,可选择乘搭轻快铁或单轨火车。
Featured Ads