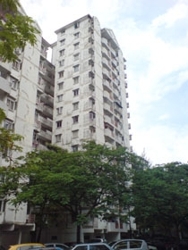 Miharja Condominium
located in the hectic township of Cheras, Kuala Lumpur is a residential high-rise building that was built by Uncang Emas Sdn Bhd. Among its immediate neighbours are Warisan Cityview and Viva Home.Miharja Condominium offers buyers approximately 959 sf sized units that houses 3 bedrooms and 2 bathrooms. The residents of the leasehold property are offered numerous facilities, among them being a swimming pool, playground, ample open parking area and round-the-clock security.In addition, Miharja Condominium has convenient access to public amenities and township facilities such as RapidKL bus services, Taman Maluri LRT station, primary and secondary schools, near Jaya Jusco Taman Maluri Shopping Mall, sports facility such as the 40 acres Taman Tasik Permaisuri, Kuala Lumpur Football Stadium, banks, restaurants, and also within distance to UKM Hospital (HUKM).Miharja Condominium is strategically located with easy access to major expressways such as the Kuala Lumpur - Seremban Highway, BESRAYA highway, the East - West Link Highway, Middle Ring Road 2 (MRR2), Cheras - Kajang highway, plus also other main roads connecting to the vicinity such as Jalan Loke Yew, Jalan Sri Permaisuri, Bandar Tun Razak and Jalan Cheras.
Property Details
Name: Miharja Condominium
Address: Jalan Palong, Taman Miharja, 56200 Cheras, Kuala Lumpur
Developer: Uncang Emas Sdn Bhd
Completion Date: 1994
Type: Condominium
Tenure: Leasehold
No. of Blocks: 31
No. of Storey: 10
No. of Bedrooms: 3
No. of Bathrooms: 2
Built-up: 959 sf
Maintenance Fee: RM60
Launch Price: RM99,000
Subsale Price:
Rental:
Facilities
24-hour security
Swimming pool
Open parking area
Playground
Market Trends
Latest transaction in Miharja Condominium, Cheras
| SPA Date | Address | Size | Price |
| --- | --- | --- | --- |
| 20/12/2017 | X/DX-X-X, JALAN PALONG, OFF JALAN CHERAS | 959 ft2 | 350000 |
| 19/12/2017 | XAX-X-X, JALAN LOKE YEW | 959 ft2 | 410000 |
| 23/11/2017 | XDX-X-X, JALAN PALONG | 959 ft2 | 480000 |
| 17/11/2017 | XDX-X-X, JALAN PALONG | 959 ft2 | 400000 |
| 05/09/2017 | AX-X-X, JALAN PALONG, OFF JALAN CHERAS | 959 ft2 | 395000 |
Analysis
Miharja Condominium in Cheras is a condominium that provides its residents with lots of modern facilities from its matured surroundings especially from its Taman Maluri neighborhood. Plus it is also located within close vicinity of a large projected catchments population of more than 60,000 households which is good for property investment.Miharja Condominum has excellent traveling distance to the city centre as it only takes a 15-minute drive to reach Bukit Bintang and KLCC. Those who do not drive can opt for the public transportation as Taman Maluri LRT Station is within walking distance from the condominium. There is also a bus stop nearby the condo.Miharja Condominium has a healthy mixed of tenants from all races and nationalities. Perhaps it is due to the convenience and nearby shop lots that house clinics, stationary shops, convenience stores, laundry, car wash, automotive workshops, hardware stores, locksmith, cyber cafes and restaurants. There are also plenty of food stalls that are open for 24-hours. The night market is available every Monday.