Property Insights & Reviews : Kampung Cheras Baru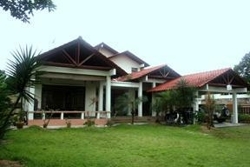 Kampung Cheras Baru is situated at Cheras, Kuala Lumpur. This old but advancing residential village is strategically located neighboring Pandan Perdana, Taman Sri Bahtera, Taman Kencana and Taman Muda.Kampung Cheras Baru comprises of mostly bungalow lots and factories. Bungalow lots typically have built up area of approximately 4,000 sf while the factories typically have built-up areas of around 5,700 sf. It is equipped with playgrounds for its residents there. There are many amenities near Kampung Baru Cheras. Most of the shop lots situated are within walking distance that carries basic necessities. There are also a wide variety of food to suit everyone's taste. There is also the famous Look Out Point hosting a few restaurants and cafes and is a popular place amongst the teenager. Look Out Point offers a breath taking view of the Kuala Lumpur city lights and is a great place for get together parties or a romantic dinner. Look Out Point is also known as 'Little Genting' by many.There are a few schools situated near Kampung Cheras Baru such as SRK Kampung Cheras Baru, SK Pandan Perdana, SMK Seri Bintang Selatan, SMK Seri Bintang Utara and a few more, all located within a 1.5km radius. It is easily accessible via Middle Ring Road 2 (MRR2) and also Jalan Cheras. As for public transportation, residents can utilize the LRT via Pandan Jaya RapidKL LRT Station which is approximately 5 minutes drive away.
Property Details
Name: Kampung Cheras Baru
Address: Cheras, 56000, Kuala Lumpur
Type: Bungalow, Factory
Tenure: Leasehold
No. of Storey
Bungalow: 2
Factory: 2
No. of Bedrooms
Bungalow: 5
No. of Bathrooms
Bungalow: 3
Land Area
Factory: 7,200 sf
Built-up
Bungalow: 4,000 sf
Factory: 5,700 sf
Subsale Price
Bungalow: From RM320,000
Rental
Factory: From RM6,800
Facilities
Playground
Market Trends
Latest transaction in Kampung Cheras Baru, Cheras
| SPA Date | Address | Size | Price |
| --- | --- | --- | --- |
| 15/04/2016 | Jalan Xc | 6674 ft2 | 1500000 |
| 03/03/2016 | Jalan X | 6760 ft2 | 480000 |
| 19/11/2015 | Jalan X | 4306 ft2 | 300000 |
| 23/09/2015 | Jalan X | 3423 ft2 | 660000 |
| 12/09/2015 | Jalan X | 7858 ft2 | 450000 |
Analysis
Kampung Cheras Baru is located at a strategic area in which it is surrounded by many established townships which are all located nearby. It is also easily accessible to the city centre. In June, 2011, there were reports over the newspapers whereby residents from Kampung Cheras Baru were furious that the water supply has been cut off without any notice and that they were not fully prepared for it. They got furious because the water supply cut persisted for a few days and they claimed that Syabas did not warn them earlier on about the water supply issue.