Property Insights & Reviews : Adda Heights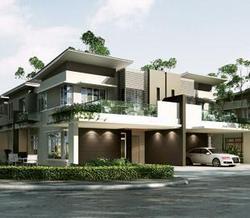 Adda Heights is a contemporary high-end settling enclave where one can adore the tropical landscape theme which surrounds the growing residential area in Nusajaya. It is built in the established arena of Tebrau Corridor located in the south city of Malaysia, Johor Bahru. In an effort to create a lush setting of enclave amidst the hectic lifestyle of Johor Bahru, one can find serenity at Adda Heights where parks and lakes are built beautifully within the gated elite homes of the new property.The land of Adda Heights comprises of residential homes and commercial lots in which investors and potential buyers have the privilege to opt for. Inside the 500 acres of development land included is the Adda Avenue Commercial Shops which is designed with the total of 99 units of 3 storey shops. The residential homes are Yellow Horizon Phase 2A with 144 units of double storey cluster homes in 3 designs selections, and Yellow Horizon Phase 2B with 100 units of double storey cluster homes in 2 designs. Other those phases, Adda Heights also has Maple Red property that comes with 196 double storey cluster homes in 3 designs. Also architecture in Maple Red is 40 units of double storey semi-detached homes. Legend Brown owns 164 units of storey cluster homes in 3 designs, plus Blue Sky has a total of 172 double storey cluster and semi-detached units with 4 designs selections under its name. The on-going projects in Adda Heights are the luxurious Grey Stones Precinct and the Purple Field Precinct with only limited seats left before it is completely sold out.Adda Heights residential area is located within reach to all the town's conveniences such as Jusco, Giant, Tesco, and Carrefour hypermarkets. The Austin Hills Golf & Country Club, Ponderosa Golf Resort, and Starhill Golf Club are the exclusive recreational quarters nearby to the fashionable developmental land. To add on, Adda Heights land is planned nearby to the Sultan Ismail General Hospital and the Kempas Medical Center for the comfort of the residence which all the important amenities are in close proximity.The nearest train station is KTM Kempas Station which situated 2 km away. Educational institutions are not a trouble for families residing in the housing development because SMK Taman Daya, SK Kangka Tebrau, and SMK Taman Daya 3 located less than 2 km from Adda Heights. Also, Pizza Hut Setia Tropika, KFC Setia Tropika, and McDonald's Setia Tropika are within delivery range hence, one will not have to hustle and buckle up to fill their stomachs. They can get the food ordered right at their doorstep. Not to forget, worship places are only mere minutes away from the contemporary residence. Adda Heights units owner clearly living at ease in the locale as everything needed is nearby.
Property Details
Name: Adda Heights
Address: Johor Bahru, Johor
Developer: Southern Gateway
Completion Date: June 2014 (estimate)
Type: Commercial Shop, Cluster Home & Semi-Detached House
Tenure: Freehold
No. of Units
Adda Avenue: 99
Yellow Horizon Phase 2A: 144
Yellow Horizon Phase 2B: 100
Maple Red: 196 + 40
Legend Brown: 164
Blue Sky: 172
Grey Stones Precincts: 264 + 50
Purple Field Precincts: 196
Land Area: 500 acres
Built-up
Commercial Shop: From 5,191 sf
Grey Stones: From 2,687 sf
Purple Field: From 2,882 sf
Subsale Price
Commercial Shop: From RM1,100,000
Bungalow: From RM650,000
Condominium: From RM330,000
Rental
Commercial Shop: From RM5,000
Bungalow: From RM2,000
Facilities
24-hour gated security
Commercial development
Parks and lakes
Children's playground
Analysis
Adda Heights is conveniently accessible via North-South Expressway where one will have to go through the Exit 255C which is Dato' Onn /Adda Heights Interchange. Other than that, it is also can be reach passing through Pasir Gudang Highway via Taman Daya. To secure the exclusivity of the residential area yet still nearby to all the modern city resources, Adda Heights is located 8 km away from the ever busy Johor Bahru City Center.
Featured Ads