Property Insights & Reviews : Taman Sutera Utama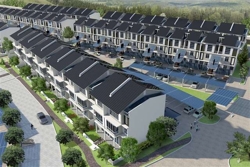 Taman Sutera Utama is a residential area located in Johor Bahru, approximately 18 minutes drive from the city centre of Johor Bahru. Surrounded by many other residential areas such as Taman Ungku Tun Aminah and Taman Tampoi Indah, one can easily access Taman Sutera Utama from city centre of Johor Bahru via Jalan Tun Abdul Razak, Jalan Skudai and Jalan Sutera Danga. Taman Sutera Utama is a very large well planned neighborhood that consists of commercial areas, shop houses and residential units which is quite a new neighbourhood area in Johor Bahru.The residential units of Taman Sutera Utama comprises of 1.5 storey terrace, 2-storey terrace and 2-storey semi-detached houses with freehold tenure type. Some of the unit designs are very unique which comes together with roof-top garden or foyer. The built-up area of each unit in Taman Sutera Utama is 1,900 sf & 2,000 sf (for 1.5 storey terrace), 2400 sf – 2800 sf (for 2-storey terrace) and 3000 sf (for 2-storey semi-detached). The rental price starts from RM3000 and the selling price starts from RM400,000. The selling price of Taman Sutera Utama is higher for units that come with a roof-top garden or foyer. The 1.5 storey terrace house comes with 3 bedrooms and 2 bathrooms meanwhile the 2-storey terrace and semi-detached house comes with 4 bathrooms and 4 bedrooms. Taman Sutera Utama is equipped with commercial areas and shop houses. Thus, there is no need to worry much about daily necessities. Besides, it is only 5 minutes drive from Sutera Mall (Carrefour), Jusco Bukit Indah, Tesco and Giant. Apart from that, nearby schools include SK Taman Tun Aminah and and SJK(C) Kuo Kuang 2. Taman Sutera Utama is also very near to several expressways such as Second Link(Tuas) to Singapore, Nusajaya(central of Iskandar) and North-South Expressway. It is only a 10-minutes drive to these expressways.
Property Details
Name: Taman Sutera Utama
Address: 81300, Johor Bahru, Johor
Type: 1.5-Storey Terrace, 2-Storey Terrace, 2-Storey Semi Detached
Tenure: Freehold
Developer: Tanah Sutera Development
Built-up area: 1,900 sf – 3,000 sf
No. of Bedrooms: Minimum 3
No. of Bathrooms: Minimum 4
Subsale Price:
Rental:
Facilities
24-hours security
Jogging track
Playground
Analysis
Taman Sutera Utama is a very new neighborhood with very well planned development. The concept of the project is very good and each type of houses has design varieties which provide wide range of choices for the buyers. For those who are looking forward to buy a dream house of your own and you do not have a limited budget, this is a good choice of investment for you. The targeted buyers for these properties will be people of high living standard since the price is very expensive due to the nice designs of the houses.
Featured Ads
Unfurnished 2-sty terrace/link house
F/H