Property Insights & Reviews : Taman Sri Pulai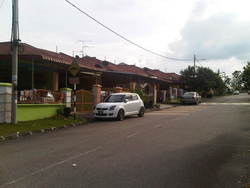 Taman Sri Pulai is a residential and commercial area located in Pulai, Johor, neighbouring some prominent residential areas like Taman Teratai and Taman Pulai Perdana and also the established University Technology Malaysia (UTM).Taman Sri Pulai consists of single and double-storey terrace houses, 2-storey shop-offices and commercial land. The 1-storey terrace has a built-up area of 1,100 sf. The 2-storey terrace unit has a land area of 1,400 sf and comes with 4 bedrooms and 3 bathrooms. The 2-storey shop-office has a land area of 1,540 sf.Residents of Taman Sri Pulai can easily find ample amenities sited within the vicinity of Taman Sri Pulai such as mini market, clinic, petrol kiosks, workshops, restaurants, saloons and many more. Besides that, residents can also head over to the Econsave Hypermarket, which is located in Taman Teratai, and it only takes 5 minutes' short drive to get there. Educational establishments such as SK Taman Sri Pulai is the only school that is located within the proximity of Taman Sri Pulai whereas other schools like SRJK(C) Pulai, SJK (T) Kangkar Pulai and also the prominent University Technology Malaysia (UTM) are located within a 3.5km radius away from Taman Sri Pulai. Connectivity wise, Taman Sri Pulai can be easily located using the Skudai Pontian Highway.
Property Details
Name: Taman Sri Pulai
Address: Pulai, Skudai, 81300, Johor Bahru, Johor
Type: Terrace, Shop-Office & Commercial Land
Tenure: Freehold
No. of Storey
Terrace: 1, 2
Shop-Office: 2
No. of Bedrooms
2-Storey Terrace: 4
No. of Bathrooms
2-Storey Terrace: 3
Land Area
2-Storey Terrace: 1,400 sf
Shop-Office: 1,540 sf
Commercial Land: 58,900 sf
Built-Up
1-Storey Terrace: 1,100 sf
Subsale Price
1-Storey Terrace: From RM60,000
2-Storey Terrace: From RM160,000
Shop-Office: From RM450,000
Commercial Land: From RM4,000,000
Rental
1-Storey Terrace: From RM380
2-Storey Terrace: From RM1,300
Facilities
School
Shops
Mosque
Analysis
Taman Sri Pulai is strategically located and just mere minutes away to the Skudai-Pontian Highway and also the second link Malaysia-Singapore Highway. Thus, it is still convenient for those working in Singapore to stay in this neighborhood. Apart from that, there are also many that rent out houses and rooms to students as the University Technology Malaysia is sited just next to Taman Sri Pulai and many seek this as an opportunity to earn some extra cash with their spare rooms in the house.
Featured Ads
Semi-Furnished 1.5-sty terrace/link house
F/H