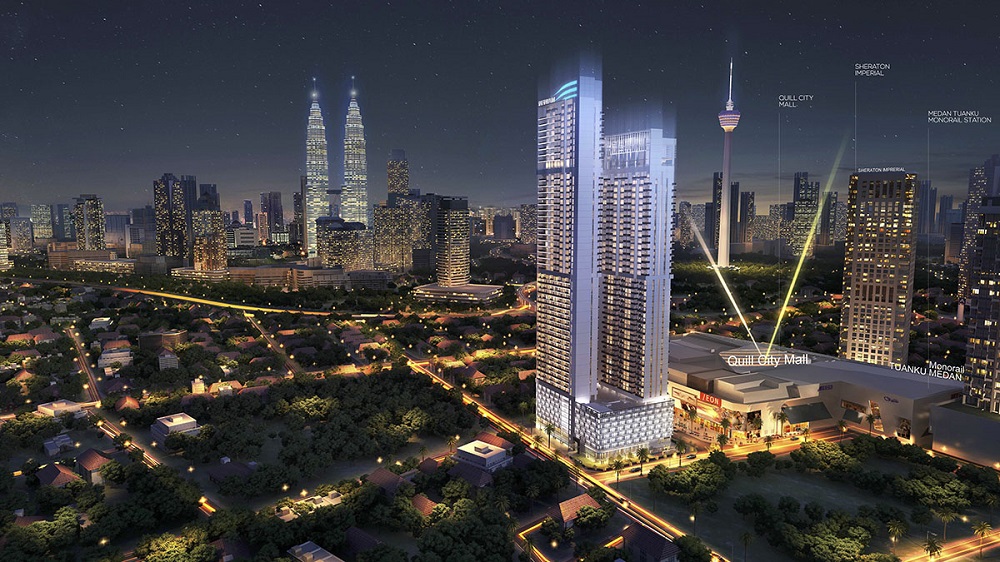 The Luxe
by Infinitum is a freehold development that sits in the heart of Kuala Lumpur. It is developed by Singapore Roxy Pacific, and a joint venture with Macly Group is located Jalan Dewan Sultan Sulaiman, just a stone away from world's famous Petronas Twin Tower. The development comprises of a 43-storey tower with 400 residential units and 31 commercial units. Regarding security, The Luxe is equipped with 24-hour security complete with CCTV surveillance. Each unit comes with one parking spot.
Located along Jalan Sultan Sulaiman, The Luxe by Infinitum is located next to City Quill Mall, and Medan Tuanku LRT which connects The Luxe by Infinitum with Bukit Bintang shopping malls such Lot 10, Pavilion with a few LRT stops away. Petronas Twin Tower and Suria mall is also within 5 minutes drive.
Type A1 & A2 Floorplan:
Type B & D Floorplan:
Type A1(G) & C Floorplan:
Property Details
Name: The Luxe
Address: 18, Jalan Dewan Sultan Sulaiman, Kampung Baru, 50300 Kuala Lumpur, Wilayah Persekutuan Kuala Lumpur
Developer: Singapore Roxy Pacific & Macly Group
Completion Date: 2019
Type: Residental
Tenure: Freehold
No. of Blocks: 1
No. of Storey: 43
No. of Units: 431
No. of Bedrooms
Type A1 - 1 Bed
Type A1(G): 1
Type A2: 2
Type B: 1
Type C: 2
Type D: 2
Type D2: 2
Type E: 3
Type E1: 3
Type P1: 2
Type P2: 2
No. of Bathrooms
Type A1: 2
Type A1(G): 2
Type A2: 2
Type B: 2
Type C: 2
Type D: 3
Type D2: 3
Type E: 2
Type E1: 2
Type P1: 2
Type P2: 2
Built-up
Type A1: 805 sq ft
Type A1(G): 735 sq ft
Type A2: 675 sq ft
Type B: 730 sq ft
Type C: 725 sq ft
Type D: 945 sq ft
Type D2: 995 sq ft
Type E: 1,120 sq ft
Type E1: 1,180 sq ft
Type P1: 1,140 sq ft
Type P2: 950sqft
Launch Price: Not stated
Phone: +603-2602 3318
Email: Not stated
Website: http://www.thecolonybyinfinitum.com.my/theluxe
Facilities
Gymnasium
Lift lobby
Swimming pool
Shallow pool
Steam/Sauna room
Gym
Pool deck
Wet deck
Jacuzzi
Internet/KTV room
Children's playground
BBQ/Outdoor dining
Business lounge
Residents' lounge
Staff recreation room
Planter
我们正在努力中。敬请期待我们将为您献上最全面的物业评论!